Home
Is Mark Wood the best IPL debut ever?
April 4th 2023, 4:30:00 pm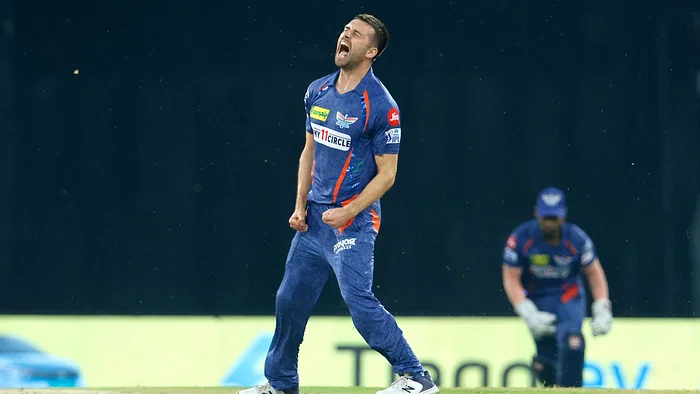 The other day, Mark Wood took five wickets in his first IPL match. Is that a record? asked Brian McMaster from England.

The England fast bowler Mark Wood took 5 for 14 - his best figures in all T20 cricket - for Lucknow Super Giants against Delhi Capitals last weekend. Despite this, Wood did not make his IPL debut, as he played for Chennai Super Kings against Mumbai Indians in 2018 (he did not take a wicket, and his four overs cost 49 runs).

Regardless, Alzarri Joseph's 6 for 12 for Mumbai Indians against Sunrisers Hyderabad in Hyderabad in 2019 is the best debut figure in IPL history. Wood currently sits joint eighth on that list.

However, Wood's figures were the best by an English bowler in the IPL, beating Dimitri Mascarenhas' 5 for 25 against Pune Warriors in 2012.

Nilu Banerjee from India asked if anyone made a higher score than Ruturaj Gaikwad's 92 in the IPL season curtain-raiser.

Ruturaj Gaikwad's 92 at Ahmedabad recently was quite the statement for the Chennai Super Kings. It ranks as the third-highest individual score, of all IPL opening matches. Brendon McCullum blazed his way to a remarkable 158* for Kolkata Knight Riders in 2008 (which is still the second-highest of all time), while Rohit Sharma registered 98 not out for Mumbai Indians against KKR in 2015.
Also Read: Ben Stokes is likely to play as a specialist batter at the start of the 2023 IPL

The other day, Kyle Mayers hit 73 in his first IPL match. What's the highest score on an IPL debut?

Super Giants' first match against Delhi Capitals was won by Kyle Mayers by 73 runs. 158 not out for KKR against RCB in Bangalore in 2008, in the very first IPL match, is the highest score for anyone on an IPL debut since Brendon McCullum.

There have been two other Australians who scored higher on their IPL debut than Mayers - both in the 2008 inaugural season. After McCullum's blitz, Michael Hussey hit 116 not out for CSK against Kings XI in Mohali, and Shaun Marsh hit 84 not out against Deccan Chargers in Hyderabad. As a result, Mayers scored 73 on his IPL debut, the highest score since the first season.

Mayank Agarwal has made four Test centuries, all in India. What are the most that one batter has made without any away from home? asked Devang Patel.

Download the best cricket-scoring app now to get IPL live scores, ball-by-ball commentary, and scorecard updates of all international and domestic cricket matches.

Currently, there are three men who have scored five Test centuries, all of them against Australia: the old England captain Stanley Jackson, whose five hundreds were all against Australia, India's Chandu Borde, and the current Australian batter Travis Head, who no doubt hopes to escape this particular list during this year's Ashes series in England.

Along with Joe Hardstaff junior of England, Guy Whittall of Zimbabwe, and Roshan Mahanama and Arjuna Ranatunga of Sri Lanka, Mayank Agarwal has scored four Test centuries at home.

Jamie Lewcock from Ireland asked, "What is the lowest highest score in a completed Test innings?".

I believe the answer is 7 - when South Africa was bowled out by England for 30 at Edgbaston in 1924, Herbie Taylor contributed the most runs with 7.

India's 36 against Australia in Adelaide in 2020-21 was the only other completed Test innings to include 11 single-figure scores, with Mayank Agarwal contributing nine of them.

The 1953 Ashes series marked the first time ten batters failed to reach double figures in a Test inning.

Get Live IPL cricket scores before the TV and cricket schedule by following us on Facebook, Instagram, and YouTube.
Tags: bet365 india, Bet with bet365, Betfair, Bet365 app, Bet365 offers, bet 365 live, Live cricket score app download, Live Line & Fastest Score, Betfair Online Betting, cpl live cricket app download, fastest live line cricket score, fastest live score App, best cricket scoring app, cricket live ball by ball, free cricket live score, live score cricket ipl, cricket score online, live score cricket, live cricket score board, cricket score of ipl, Fastest live cricket score app, Betfair Online Betting, cricket live line online, Live Cricket Match Score, Live cricket score before tv, betfair, Live cricket score all matches, Live cricket score domestic matches, best live cricket score app online, Best live cricket score app, Live cricket score app download, best Cricket live score app, Best cricket scoring app, Cricket mazza live cricket score, cricket app download live, free download live cricket app, Best live cricket score app, Download live line cricket app, best live cricket score app online, live cricket score bbl, No. 1 Cricket Scoring App, Live cricket android app download, Best Cricket live score app, Fastest live cricket score apps for Android, Download live cricket match app, Best cricket scoring app, Best live cricket app download, Live cricket score app download, Cricket app download live, Free download live cricket app, Live cricket streaming app download, Fastest cricket live Line, live cricket score international matches, Download Cricket mazza App, live line cricket app, Fastest Live Score for ODI, download live cricket match app, fastest cricket score app, best live cricket app download, free download live cricket app, Fastest IPL Score, best Cricket Live Line App, Live cricket score update, live cricket streaming app download, fastest live cricket score app for Android, Live cricket match score, live cricket score ios app, live cricket score app for ios, Fastest live cricket score app for IOS, Live cricket app for android download, Fastest Live Score for ODI, Live cricket app download for mobile, Best app for live cricket streaming free, Live cricket stream app for Android, Free cricket scoring app, Fastest cricket score, Live cricket score, Live cricket score app download, Fast Live Line Cricket Score, Live cricket scores ball by ball, Live cricket score app, Live line cricket, Live cricket score today, Fastest Live cricket score app, Live cricket score international, Live cricket score all matches, ipl live cricket app download, Live cricket score ipl 2023, Fastest live cricket score for IPL, The live cricket score, live cricket score ios app, live line online, fastest cricket score site, live cricket score app for android, ipl live match, ipl live score 2023, ipl 2023 live score, ipl live score today, live cricket score crickmazza, Today ipl match score, ipl score 2023, today cricket match, live cricket score ipl, today ipl match live, ipl 2023 score, ipl match score, ipl match live score, ipl score 2023, today ipl match live score, live cricket score india, ipl cricket score, live scorecard, india live match, live score ball by ball, ipl cricket match score, latest cricket scores, ipl cricket live score today, ipl live score video