Home
Because of fear of losing, India won t come here for Asia Cup
March 24th 2023, 4:00:00 pm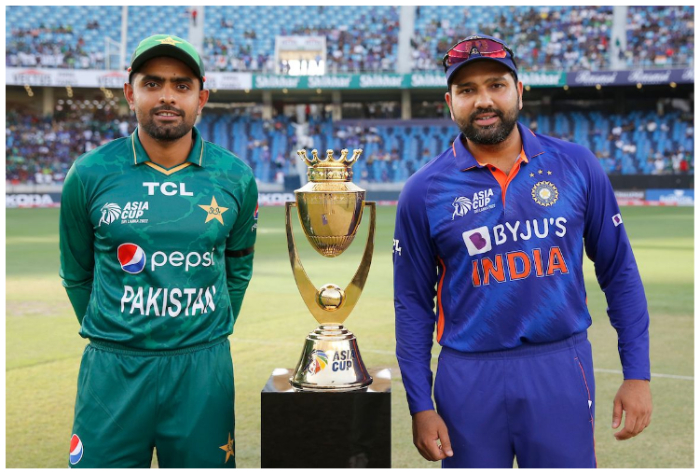 The debate on whether India's cricket team will be traveling to Pakistan for the Asia Cup has been growing by the day. It started when Asia Cup president Jay Shah sent a letter to the ICC requesting to change the venue from Pakistan. The PCB asserted their protest and vowed that they would pull out of the World Cup in retaliation if their wishes were not met. However, while the two boards have passed ideas between them, the Pakistanis wanting India to come and fill their stadiums and the BCCI adamant in their standpoint, no conclusive decision has yet been made.
Also Read: Mohammed Siraj falls from first to third in the ICC rankings for bowlers in ODIs

The latest development on the Asia Cup is that Pakistan and India have worked up a hybrid model. The tournament will stay in Pakistan, however, India's matches will be moved to either Dubai or Abu Dhabi - both being neutral venues. Though numerous cricket teams, such as England and Australia, have played out full-fledged series in the country without any security issues, there are some ex-cricketers who believe there is more than meets the eye. Imran Nazir, a former Pakistani star cricketer sees it as an attempt to conceal India's fear of competing on Pakistani soil.

Cricketmazza and Cricketbox provide the live cricket scores ball by ball, and IPL schedule updates for WPL 2023, IPL 2023, and IPL 2024.

Security isn't a problem. Just take a look at how many teams have been to Pakistan. Forget A teams, Australia has also visited. It is all a cover-up. In reality, India won't visit Pakistan for Asia Cup because they are afraid of losing. Security is just an excuse. Come play cricket with us. He said on the Nadir Ali Podcast, "When you start playing politics, there is no turning back."

It's been a whole decade since India made their last visit to Pakistan in 2006, and while they may have come up short in the Test series, they did manage to win the ODIs. Since then, Pakistan has already toured India on two occasions before ties were cut off in 2012/13, and now India and Pakistan only face each other during multi-nation ICC tournaments such as World Cups, Champions Trophy, or Asia Cups. Last year saw three matchups between the arch-rivals - twice in the Asia Cup and once at the T20 World Cup - where the tension was really tangible. According to Nazir, not being able to clash against Pakistan often is quite sad nowadays; but losing to them is something that India simply can't accept.

It is because of the level of excitement that people watch India vs Pakistan matches. Even we, as cricketers, believe India-Pakistan matches are essential for cricket to reach every corner of the world. Our country used to play a lot of cricket with them. They're such a balanced tea, but India cannot tolerate losing. "It's a game; you'll win some, you'll lose some," he said

You can find the fastest live cricket score app download, as well as the live cricket score of all ongoing matches Follow us on Facebook, Instagram, and YouTube.
Tags: bet365 india, Bet with bet365, Betfair, Bet365 app, Bet365 offers, bet 365 live, Live cricket score app download, Live Line & Fastest Score, Betfair Online Betting, cpl live cricket app download, fastest live line cricket score, fastest live score App, best cricket scoring app, cricket live ball by ball, free cricket live score, live score cricket ipl, cricket score online, live score cricket, live cricket score board, cricket score of ipl, Fastest live cricket score app, Betfair Online Betting, cricket live line online, Live Cricket Match Score, Live cricket score before tv, betfair, Live cricket score all matches, Live cricket score domestic matches, best live cricket score app online, Best live cricket score app, Live cricket score app download, best Cricket live score app, Best cricket scoring app, Cricket mazza live cricket score, cricket app download live, free download live cricket app, Best live cricket score app, Download live line cricket app, best live cricket score app online, live cricket score bbl, No. 1 Cricket Scoring App, Live cricket android app download, Best Cricket live score app, Fastest live cricket score apps for Android, Download live cricket match app, Best cricket scoring app, Best live cricket app download, Live cricket score app download, Cricket app download live, Free download live cricket app, Live cricket streaming app download, Fastest cricket live Line, live cricket score international matches, Download Cricket mazza App, live line cricket app, Fastest Live Score for ODI, download live cricket match app, fastest cricket score app, best live cricket app download, free download live cricket app, Fastest IPL Score, best Cricket Live Line App, Live cricket score update, live cricket streaming app download, fastest live cricket score app for Android, Live cricket match score, live cricket score ios app, live cricket score app for ios, Fastest live cricket score app for IOS, Live cricket app for android download, Fastest Live Score for ODI, Live cricket app download for mobile, Best app for live cricket streaming free, Live cricket stream app for Android, Free cricket scoring app, Fastest cricket score, Live cricket score, Live cricket score app download, Fast Live Line Cricket Score, Live cricket scores ball by ball, Live cricket score app, Live line cricket, Live cricket score today, Fastest Live cricket score app, Live cricket score international, Live cricket score all matches, ipl live cricket app download, Live cricket score ipl 2023, Fastest live cricket score for IPL, The live cricket score, live cricket score ios app, live line online, fastest cricket score site, live cricket score app for android, ipl live match, ipl live score 2023, ipl 2023 live score, ipl live score today, live cricket score crickmazza, Today ipl match score, ipl score 2023, today cricket match, live cricket score ipl, today ipl match live, ipl 2023 score, ipl match score, ipl match live score, ipl score 2023, today ipl match live score, live cricket score india, ipl cricket score, live scorecard, india live match, live score ball by ball, ipl cricket match score, latest cricket scores, ipl cricket live score today, ipl live score video