Home
A former Indian opener on Samson cult following, People said Sanju was God s gift to Indian cricket
March 10th 2023, 4:00:00 pm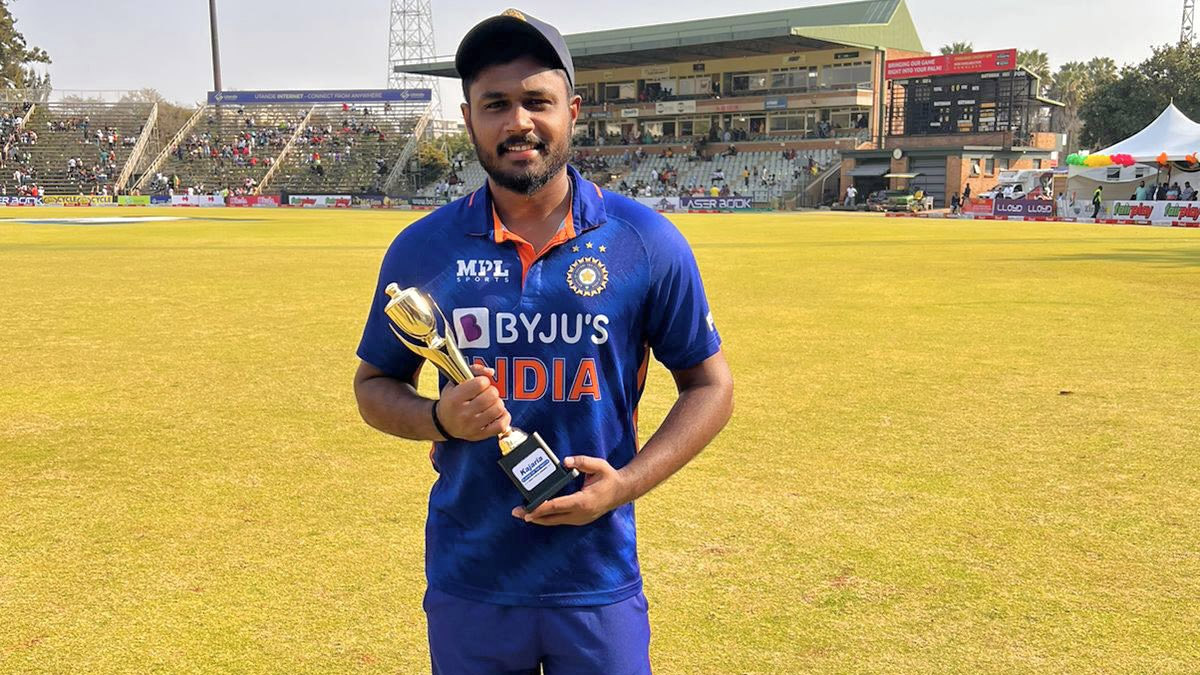 Sanju Samson remains an enigma. He has showcased his skills for both the IPL and Kerala, earning him fame and an illustrious fan base throughout India. Even a simple utterance of his name can spark wild applause from crowds. That being said, Samson hasn't been as effective for the national team as one would have predicted with all the talent he carries. Nevertheless, his immense skill has not gone unrecognized.
Enjoy live cricket scores and India vs Australia Border Gavaskar Trophy matches on your Android or iOS device.
In the last year, Samson has had a tough time trying to make his way into the Indian squad and the Playing XI. Though he has had few opportunities, he faces stiff competition from players such as Pant and Kishan. Despite this, fans continue to throw their weight behind him, feeling that he isn't getting enough games compared to the likes of Karthik or others. Former India opener Aakash Chopra believes Samson hasn't been able to take advantage of his chances with the national side, thus pushing him down in the order of selection.
Whether one likes it or not, Indian cricket is fascinating. Perceptions created by its atmosphere often surpass the truth. Sanju has managed to gain a vast fan following - in this era where the digital world dominates. His place of origin has an equally strong presence. He demonstrates extraordinary batting ability during matches and even made it to various tournament finals, including Ranji and IPL. Although he was presented with many chances to play for India, he was unable to make the most out of them, and this failure was something that his die-hard supporters struggle to accept. Chopra addressed this subject when speaking with YouTuber Ranveer Allahabadia on 'TRS Clips', emphasizing that Sanju is aware of how limited his prospects are within the present team set-up.
Ishan Kishan scored a double-century, yet we didn't give him the next few matches. When he did, he was asked to bat at number five. There isn't a place. And it's not because KL Rahul wasn't available. If he had been available, he would still have sat out. That's the level of quality that is available. Don't let the opportunity slip away. If you throw it away for whatever reason, you will regret it."
Referring to Samson's immense following, Chopra acknowledges that fans often get carried away without considering the facts. India being eliminated in the semifinal of the T20 World Cup in Australia spurred discussion that their overall performance would have been better had Samson played. Karthik and Pant were given priority, but Chopra highlighted that some seemed to think that India could have achieved something greater with Samson, which is not necessarily accurate.
Also Read: In India vs Australia, Ravichandran Ashwin surpasses Kapil Dev for a major milestone

There is simply no place in the XI. Ishan Kishan scored a double-century, but we didn't give him the next few matches. When he did, he was asked to bat at No. 5. There is no place for him. It's not because KL Rahul was unavailable. Had he been available, he would still have sat out. So that's the level of quality available. When an opportunity presents itself, grab it and make the most of it. You regret throwing away for whatever reason."
Chopra voiced his concern that many fans got swept away by their admiration of Samson without realizing the reality. Following India's World Cup exit in a semifinal defeat to England, people speculated that India may have had different outcomes if Samson was present. Karthik and Pant filled in for him as keepers during the tournament, but Chopra suggested that this view was far too idealistic.
"During the Sanju Samson phase, people said 'Play him and everything will fall into place. We'd even win the World Cup if we had played him. They wouldn't have realized that the bowlers had an off day or that Karthik or Pant would have played before him. But in reality, his batting would not have made any difference. If Samson had played, we could have done this and that."
The fastest live cricket score and cricket schedule along with the live cricket match score of ongoing matches can be found on Facebook, Instagram, and YouTube.
Tags: bet365 india, Bet with bet365, Betfair, Bet365 app, Bet365 offers, bet 365 live, Live cricket score app download, Live Line & Fastest Score, Betfair Online Betting, cpl live cricket app download, fastest live line cricket score, fastest live score App, best cricket scoring app, cricket live ball by ball, free cricket live score, live score cricket ipl, cricket score online, live score cricket, live cricket score board, cricket score of ipl, Fastest live cricket score app, Betfair Online Betting, cricket live line online, Live Cricket Match Score, Live cricket score before tv, betfair, Live cricket score all matches, Live cricket score domestic matches, best live cricket score app online, Best live cricket score app, Live cricket score app download, best Cricket live score app, Best cricket scoring app, Cricket mazza live cricket score, cricket app download live, free download live cricket app, Best live cricket score app, Download live line cricket app, best live cricket score app online, live cricket score bbl, No. 1 Cricket Scoring App, Live cricket android app download, Best Cricket live score app, Fastest live cricket score apps for Android, Download live cricket match app, Best cricket scoring app, Best live cricket app download, Live cricket score app download, Cricket app download live, Free download live cricket app, Live cricket streaming app download, Fastest cricket live Line, live cricket score international matches, Download Cricket mazza App, live line cricket app, Fastest Live Score for ODI, download live cricket match app, fastest cricket score app, best live cricket app download, free download live cricket app, Fastest IPL Score, best Cricket Live Line App, Live cricket score update, live cricket streaming app download, fastest live cricket score app for Android, Live cricket match score, live cricket score ios app, live cricket score app for ios, Fastest live cricket score app for IOS, Live cricket app for android download, Fastest Live Score for ODI, Live cricket app download for mobile, Best app for live cricket streaming free, Live cricket stream app for Android, Free cricket scoring app, Fastest cricket score, Live cricket score, Live cricket score app download, Fast Live Line Cricket Score, Live cricket scores ball by ball, Live cricket score app, Live line cricket, Live cricket score today, Fastest Live cricket score app, Live cricket score international, Live cricket score all matches, ipl live cricket app download, Live cricket score ipl 2023, Fastest live cricket score for IPL, The live cricket score, live cricket score ios app, live line online, fastest cricket score site, live cricket score app for android, ipl live match, ipl live score 2023, ipl 2023 live score, ipl live score today, live cricket score crickmazza, Today ipl match score, ipl score 2023, today cricket match, live cricket score ipl, today ipl match live, ipl 2023 score, ipl match score, ipl match live score, ipl score 2023, today ipl match live score, live cricket score india, ipl cricket score, live scorecard, india live match, live score ball by ball, ipl cricket match score, latest cricket scores, ipl cricket live score today, ipl live score video